DOT Physical Exams and Drug and Alcohol Screening
(763) 389-9242
Riverside Chiropractic continues to offer same day, convenient DOT physicals here in Princeton, MN. We are the areas leading DOT provider and strive to do well for YOU, the driver. Dr. Tyler Roehl is a fully credentialed National Registry Certified Medical Examiner. Same day appointments available, Call (763) 389-9242 to schedule your exam today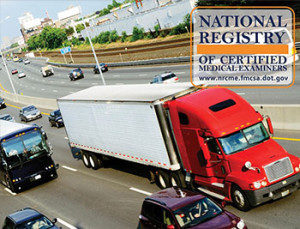 Cost:  $80
The State of Minnesota requires a medical assessment that includes health history, hearing screening, vision exam, cardiovascular exam, general physical exam, and urinalysis.  All of which can be done at our full service clinic. Trust in our friendly, experienced staff for all of your DOT Compliance needs, including onsite and in-clinic drug and alcohol screening.
The High Cost of Substance Abuse
Did you know that illicit drug users are:
Five times more likely to file a work comp claim
3.6 times more likely to be involved in a workplace accident
This year in a workforce of 200 workers, employees and family members will have 40 emergency room visits and 121 ambulatory care visits related to alcohol use and abuse.
Fortunately, you are in the driver's seat for implementing business solutions to prevent users from applying for a job at your company and to deter use. Testing does both, resulting in changing lives while positively impacting your bottom line.
The company substance testing policy sends a positive message to the community that exhibits a caring attitude for the safety and health of everybody.
Riverside Chiropractic and Acupuncture is ready to serve your company and workforce, providing the services you need today for a better tomorrow.
Compliance Pays
Employers know the cost burden associated with illicit drug users and alcohol use on the job. Poor productivity, absences, tardiness and lack of quality work are costly to your business. Testing is the best preventative measure and remedy against the problem. The Department of Transportation (DOT) requires employees performing safety sensitive functions to be tested for illicit drugs and alcohol. Making roadways safer and reducing workplace accidents and injuries saves lives.
Likewise, the DOT requires commercial motor vehicle (CMV) drivers to submit to a DOT physical examination to determin a driver's fitness for operating a commercial motor vehicle safely. Our obligation is two-fold: ensure safety for the general public and keeping you in compliance.
Whether it's DOT drug and alcohol testing or DOT physical examinations that your employees need, our professional health care team is ready to help your business.  Our testing is thorough and accurate, and our DOT examinations comply fully with federal regulations.
Professional Staff
Have full confidence in our certified testing technicians. Our professional clinical staff have completed training and proficiency  requirements according to the 49 CFR Part 40 federal regulations.
Riverside Chiropractic and Acupuncture physicians will conduct DOT physical exams according to CFR 391, Subpart E guidelines. Results are transmitted immediately and in a confidential manner so that your drivers may be back to work quickly.
Compliance should be a priority not a burden. Call us today at (763) 389-9242 to discuss convenient business solutions for your workforce.