Meet Dr. Roehl
About Dr. Roehl-The Professional Bio
Dr. Tyler Roehl's goal is to provide exceptional chiropractic care, educate the community in understanding what it means to live well, and how to achieve optimal health. Dr. Roehl grew up in Princeton and graduated from Princeton High School in 2007. He then attended Southwest Minnesota State University in Marshall, MN where he majored in Biology/Pre-Chiropractic.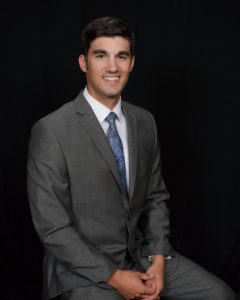 Dr. Roehl then went on to receive his Doctorate in Chiropractic from Northwestern Health Sciences University in Bloomington, MN. During this time, he also became certified as a Chiropractic Acupuncturist, and is very excited about adding this service to Riverside.
From Dr. Roehl-The Personal Story
As a Princeton native, I'm excited to be able to serve this community and it's surrounding areas. I truly feel this profession is my calling, and I am thrilled to be able to help people feel better through chiropractic care, in the area I've always called home. My goal is to get you back to doing the things you love in life; pain doesn't need to be a part of it!
I married my high school sweetheart, Sara, in 2010 and together we have two children; a daughter, Charlotte (4) and son, Emmett (2) . We are so blessed to have them, and we love seeing them interact, as well as grow and learn together.
Outside the clinic, I enjoy spending time with family and friends in the community. As a PHS graduate and former three-sport athlete, I am a proud supporter of the activities and athletics at Princeton High School. I enjoy volunteering my time on the sidelines during varsity football games as a trainer, and have been doing so since 2013. I greatly enjoy getting to know the athletes, both at the clinic and watching them compete! I am an avid fan of the Twins, Vikings, and Timberwolves, no matter how bad they might be! In my other free time, I enjoy hunting, fishing, golfing, playing basketball, fantasy football and downhill skiing.
Thank you for taking the time to learn a bit about me! I would greatly enjoy meeting YOU and to have the opportunity to help you feel better, and live well!